| | |
| --- | --- |
| | |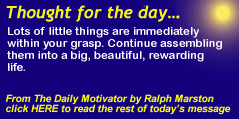 Hi there! And welcome to my homepage. My name is Doede. My husband's name is Bill. Our best friend is Jesus! We have 3 wonderful daughters. We have 2 little Angels, waiting for us in their heavenly home. We have 8 Precious grandchildren. Also 4 step-grandchildren. One of these, our Brent, is now in his heavenly home.

My husband and I love to travel, and be with our children, grandchildren, rest of family and our friends. Most of all our Joy is serving our Lord. Our family loves to laugh a lot! My Precious Mother, now an Angel Saint waits for us in her heavenly home. Oops! I almost forgot we too, are the proud parents, of our two doggies, Charlie and honey-bee.

I have given this site much thought and prayer. My main purpose for it is that God will receive all the Glory! He is so real and precious in my life and I love Him more than words can express! Without Him I would be nothing. With Him there is a purpose in my life, and that is to serve Him and love Him. With my focus on Jesus my faith has become stronger. I have learned to depend and wait on Him more. I have often witnessed His Amazing Grace. My prayer is, if you have not received our Lord as your Savior, that you will chose Him before it is too late. Experiencing Joy in your Salvation.

Jesus traveled roads of happiness, pain, and sorrow. Roads that were difficult and a struggle. In all of these was His love for us. He brightens all roads with His sweet love, making them easier to travel. He holds our hands with His hands that were scared of His love for us. As His children, He lives in us, each breath we breathe, each step we take. There are times I know He carries us. In His arms He embraces us with His love, which He took on the cross, hoping for our love. God's love is the greatest love. The greatest success in our life's is receiving Jesus as our Lord and Savior. The greatest map in doing this is in His Living Words. Because He is our Father we will be like Him, face to face, someday in His mansion of Love He holds for us. Having eternal life with our Jesus, and His Glorious Grace!
The music you are hearing is titled "He's All I Need" and sung by me. Please don't take this song without permission from me. My email: Doede
Romans8:28
1st Corinthians 13
Romans 8:35-39
1st Peter 3:15
Philippians 1:6
2nd Corinthians 12:9
Isaiah 40: 28-31
1st John 3: 1-3
Philippians 4:13
1st Corinthians 15:10
John 17: 20-26
Romans 12: 1-2

"I have learned in whatsoever state I am to be content-I can do all things through Christ who strengthen me."
Philippians 4: 11-13
FAITH....................

F = is forgiveness Ephesians 1:7
A = is available John 3:16
I = impossible James 2: 13
T = turn Luke 13:3 and Romans 10:9
H = Heaven John 10:10 John 14:3

Below is my story about an almost fatal accident I miraculously recovered from.
Darkness began to surround the shop, and I was my beauticians last appointment. Together, we walked to our cars, and said "Good Night." Moments later my life and my families lives, became suddenly, traumatically, permanently, changed.

At home, my husband, knowing I would soon be returning, sat in his recliner watching TV. The phone rang and he answered.... Speeding to the hospital, he refused to believe the totally wrecked car he passed was ours. Seconds before these moments, I had become the survivor of a traumatic brain injury, from a near-fatal car wreck. My husband and my family would survive with me, but I would no longer be the same person I was.

Parts of my brain seem to no longer function. I recall no memories of the accident. Nor any memories during my days in the hospital. Nor do I remember my arrival returning home. I suffered a near broken neck and injuries of my Cervical Spine. The C-4 C-5 and C-6 regions of my spine had to have repair surgery. I also suffered severe Central Nervous System injuries. I suffered a severe broken nose and had to have two surgeries for repair. I suffered fractured ribs and a broken knee. I have had to have 3 surgeries following the initial surgeries in the hospital. Due to this near fatal injury, I have to take medications because of seizure activities.

During recovery, my Physician said, "I was a Miracle and alive, because of God!"

My first day going out doors was being in the presence of God and His beautiful, Marvelous Creations!! Awesome!! Listening to the birds, as they sang, watching the squirrels, seeing the flowers...such beauty! And looking up toward the heaven!!
Though my recovery is Miraculous, the journey has not been easy for my husband, my family, nor my friends. Only with the Grace of our Lord, and our love for one another have we been able to continue this journey together with Jesus!! I know He has left me for a purpose, and this is none other than to serve Him and to Glorify Him.

I am His servant!

We, as Survivors of Brain Injuries, are grateful for those who opened the door for us to live as normal individuals. The individuals we applaud are the blind, the deaf, and the crippled. Before this door was opened for us we were in locked-up places, as having no mind. Thank God, in most cases, people with severe brain injuries or other disabilities are no longer locked up in an institution.

I must struggle hard to stay involved in activities that are stimulating for my brain. My mistakes, often are with laughter. I rest, then try again... and again...and again. Keep-on-keeping-on! I am on medications, for seizure activities, since my brain injury. My memory is very short term. I function greatest with repetition. I must struggle during communication, due to my cognitive deficits. My attention span is easily disturbed. I get lost easily and confused. There are pauses in my motor functions, A weakness in my balance control. (At times I have to wear braces) I am no longer able to drive, due to my severe losses.

Before my injury, I was an Employee at Boeing Company; working in Quality Control. I worked as an electronics Inspector, and Test Dept, in the Nasa Final Test and Inspection Dept. I have worked on our Apollo and our Saturn space ships.

Unbelievably, my husband and I were involved in a second, serious Auto accident following the one I described above. I received a mild brain injury then; causing a set-back in my original recovery. I have now had 2 years of Speech Language Therapy.

Those in our Medical Profession who have helped guide me and share their support with my family, and friends, are of great blessings to me. Especially those who have prayed, and those Nurses, Doctors, and My Speech Language Therapist, and other Therapist, and Counselors.
My husband and I are very happily married with three daughters and our Grandchildren, (the Apple of our hearts!!). My husband is a retired Narcotic Task Force Agent. He worked in the regions of the area where we live.

With Faith, Hope, and Love, leaning on God, believing in myself, my life soars on wings like those of an Eagle! These Blessed and rewarding accomplishments could not be...Without God, and His Amazing Grace, and His Mercy!

Recovery continues. We have not Given _ up...We are Built - up! With our Lord, Victory is ours!! Our lives are enriched with blessings!! To God Be ALL the Glory! His Grace IS sufficient!!

In Jesus Name, Press-in On, With Him!
by Doede Poston
Survivor of (TBI)
Traumatic Brain Injury
I hope you will enjoy my site. I have a page with more information on Brain injury. I also have pages with poetry (some are what my daddy wrote) and some of my pages have wav files on them. They take a bit longer to download but I think they are worth the wait. Just click onto my sitemap link below to access all the pages on my site. My guestbook and email are on the sitemap page also. Thank you for visiting and God bless.
- INDEX OF PAGES -


SITEMAP